CoatOSil* MP 200
CoatOSil* MP 200
Description
CoatOSil MP 200 silane is an epoxy functional silane oligomer that may be considered for use as an adhesion promoter or binder in polysulfide, urethane, epoxy and acrylic caulks, sealants, adhesives and coatings. The product is a polyfunctional structure bearing gamma-glycidoxy groups, which is an excellent candidate to consider to reduce emissions of methanol upon hydrolysis of the material as compared with monomeric epoxy silanes. It typically aids adhesion promotion and crosslinking of water borne or solvent based coatings as well as dispersion of metallic pigments in water borne systems.
Corrosion Resistance – Neutral Salt Spray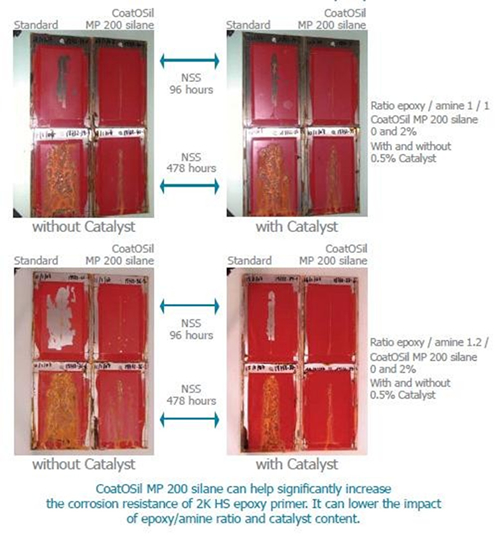 Cross Cut Adhesion ISO 2409-1972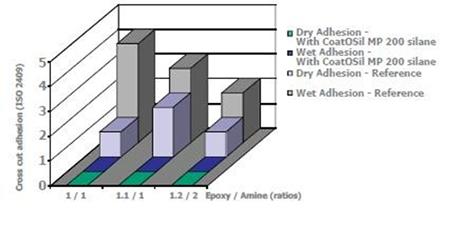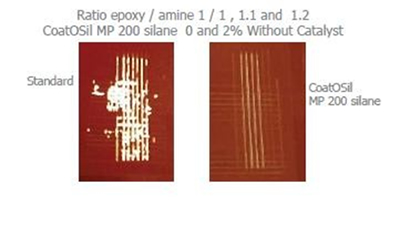 CoatOSil MP 200 silane can help signifi cantly increase the adhesion performances of 2K HS epoxy primer.
Key Features and Benefits
The gamma-glycidoxy propyl epoxide ring available in CoatOSil MP 200 silane can react with many different organic functionalities, while the alkoxy silane groups still available on the oligomeric structure typically bond strongly to inorganic substrates. The hydrolytic stability of CoatOSil MP 200 silane can help provide better shelf life than normal monomeric silanes, thus providing better durability in solvent borne systems. Specific hydrolysis conditions can be applied to hydrolyze the material so CoatOSil MP 200 silane may be considered for use in waterborne systems.
2K HS Epoxy Paint Pigment Paste Preparation
| | |
| --- | --- |
| Red Iron Oxide Dispersion Paste | |
| Material | Weight (parts) |
| Epoxy Resin (EEW; 3.8-4.25 mmole/g) | 26.91 |
| Antifoam | 0.41 |
| Dispersing Agent | 0.54 |
| Mix fi rst part prior to pigment dispersion – introduce under dispersion | |
| Red Iron Oxide | 26.16 |
| Anticorrosive Pigment | 5.58 |
| Kaolin Clay | 11.77 |
| China Clay | 11.77 |
| Barium Sulfate | 7.68 |
| Dispersion 1500 rpm / 30 minutes, max. temp. 40°C – Hegmann Gauge = 5 | |
| Total | 81.38 |
2K HS Epoxy Paint Paint Formulation
| | |
| --- | --- |
| High Solid Epoxy Paint | |
| Material | Weight (parts) |
| Red Iron Oxide Dispersion Paste | 81.38 |
| Epoxy Resin (EEW; 3.8-4.25 mmole/g) | 2.75 to 4.75 |
| CoatOSil MP 200 silane | 0, 1 or 2 |
| Mix fi rst part – introduce under dispersion | |
| Methyl Ethyl Ketone | 3.12 |
| 1 Methoxy-2-propanol | 0.78 to 1.56 |
| Xylene | 0 to 1.53 |
| Part A: Mixing 600 rpm | |
| Curing Agent | 7.66 to 9.47 |
| Ratio (Epoxy Resin + CoatOSil MP 200 silane) / Amine: 1, 1.1 or 1.2 | |
| Amine Catalyst | 0 or 0.5 |
Typical data are average data and actual values may vary. Typical data shall not be used as product specifi cations. Product formulations are included as illustrative examples only. Momentive makes no representation or warranty of any kind with respect to any such formulations, including, without limitation, concerning the effi cacy or safety of any product manufactured using such formulations.
Bend Test – Conical Mandrel ISO 6860-1984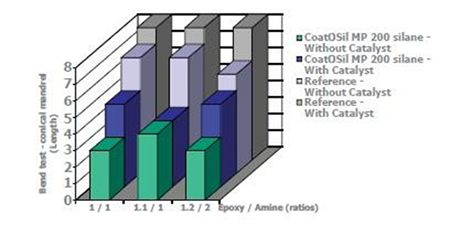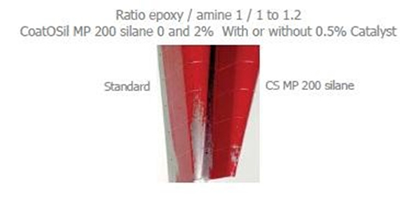 CoatOSil MP 200 silane can help improve bending resistance of 2K HS epoxy primer. It can minimize impact of accelerating catalyst on bending resistance.
Typical Physical Properties
| | |
| --- | --- |
| Properties | Typical Impact of CoatOSil MP 200 silane |
| Dry adhesion (cross cut) | Improved |
| Wet adhesion; (cross cut after immersion test) | Improved |
| Hardness | No impact |
| Impact resistance (Reverse) | Improved |
| Bending resistance (Conical mandrel) | Improved |
| Corrosion resistance (NSS) | Improved |
Patent Status
Nothing contained herein shall be construed to imply the nonexistence of any relevant patents or to constitute the permission, inducement or recommendation to practice any invention covered by any patent, without authority from the owner of the patent.
Product Safety, Handling and Storage
Customers should review the latest Safety Data Sheet (SDS) and label for product safety information, safe handling instructions, personal protective equipment if necessary, emergency service contact information, and any special storage conditions required for safety. Momentive Performance Materials (MPM) maintains an around-the-clock emergency service for its products. SDS are available at www.momentive.com or, upon request, from any MPM representative. For product storage and handling procedures to maintain the product quality within our stated specifications, please review Certificates of Analysis, which are available in the Order Center. Use of other materials in conjunction with MPM products (for example, primers) may require additional precautions. Please review and follow the safety information provided by the manufacturer of such other materials.
Limitations
Customers must evaluate Momentive Performance Materials products and make their own determination as to fitness of use in their particular applications.
Contact Information
For product prices, availability, or order placement, contact our customer service at Momentive.com/CustomerService/
For literature and technical assistance, visit our website at: www.momentive.com
DISCLAIMER:
THE MATERIALS, PRODUCTS AND SERVICES OF MOMENTIVE PERFORMANCE MATERIALS INC. AND ITS SUBSIDIARIES AND AFFILIATES (COLLECTIVELY "SUPPLIER"), ARE SOLD SUBJECT TO SUPPLIER'S STANDARD CONDITIONS OF SALE, WHICH ARE INCLUDED IN THE APPLICABLE DISTRIBUTOR OR OTHER SALES AGREEMENT, PRINTED ON THE BACK OF ORDER ACKNOWLEDGMENTS AND INVOICES, AND AVAILABLE UPON REQUEST. ALTHOUGH ANY INFORMATION, RECOMMENDATIONS, OR ADVICE CONTAINED HEREIN IS GIVEN IN GOOD FAITH, SUPPLIER MAKES NO WARRANTY OR GUARANTEE, EXPRESS OR IMPLIED, (i) THAT THE RESULTS DESCRIBED HEREIN WILL BE OBTAINED UNDER END-USE CONDITIONS, OR (ii) AS TO THE EFFECTIVENESS OR SAFETY OF ANY DESIGN INCORPORATING ITS PRODUCTS, MATERIALS, SERVICES, RECOMMENDATIONS OR ADVICE. EXCEPT AS PROVIDED IN SUPPLIER'S STANDARD CONDITIONS OF SALE, SUPPLIER AND ITS REPRESENTATIVES SHALL IN NO EVENT BE RESPONSIBLE FOR ANY LOSS RESULTING FROM ANY USE OF ITS MATERIALS, PRODUCTS OR SERVICES DESCRIBED HEREIN.
Each user bears full responsibility for making its own determination as to the suitability of Supplier's materials, services, recommendations, or advice for its own particular use. Each user must identify and perform all tests and analyses necessary to assure that its finished parts incorporating Supplier's products, materials, or services will be safe and suitable for use under end-use conditions. Nothing in this or any other document, nor any oral recommendation or advice, shall be deemed to alter, vary, supersede, or waive any provision of Supplier's standard Conditions of Sale or this Disclaimer, unless any such modification is specifically agreed to in a writing signed by Supplier. No statement contained herein concerning a possible or suggested use of any material, product, service or design is intended, or should be construed, to grant any license under any patent or other intellectual property right of Supplier covering such use or design, or as a recommendation for the use of such material, product, service or design in the infringement of any patent or other intellectual property right.
Momentive and the Momentive logo are trademarks of Momentive Performance Materials Inc.